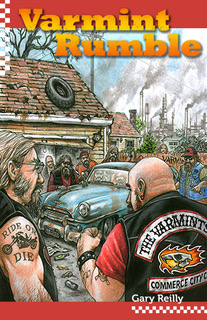 Publisher: Running Meter Press, Denver
ISBN: 9780990866695
ISBN-10: 0990866696
Publication Date: June 8th, 2020
Pages: 180
$16.95
Buy Now at Tattered Cover
Buy Now at Amazon
In Varmint Rumble, the final installment of The Asphalt Warrior series, we pick up with cabbie Brendan Murphy–better known as "Murph"–right where he usually leaves off: minding his own business and heading home to his crow's nest in anticipation of beer, burgers, and his beloved Gilligan's Island.
But a broken body lying in the street derails his plans and draws Murph into the shady world of Denver's most notorious outlaw biker gang: The Varmints.
All's well that ends well, as Murph acquits himself admirably and is deemed "good people" by the gang's leader, Spinelli. But Murph's newfound status with The Varmints brings a troubled woman into his taxicab . . . and inevitably Murph violates his supreme motto to never get involved in the lives of his fares.
A string of misadventures–wherein Big Al makes an extraordinary cameo and Murph overthinks everything–ensues, prompting Murph to go on the lam, where he waxes philosophical about life, death, and facing the music. Memento mori, Murph.