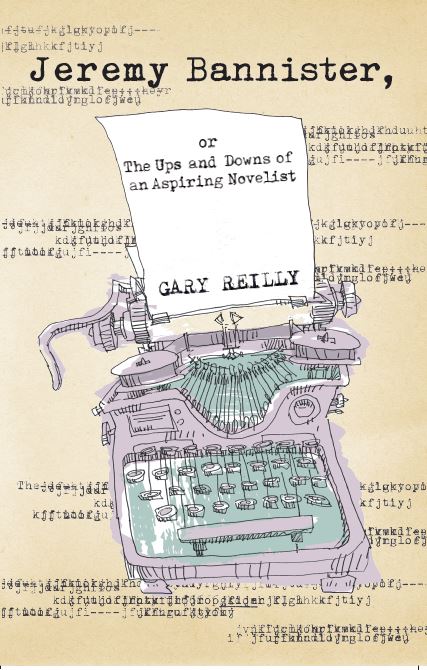 PUBLISHER: RUNNING METER PRESS, DENVER
ISBN: 978-0990992714
PUBLICATION DATE: July 13, 2021

Buy Now on Amazon Buy Now at Tattered Cover
The Story
Meet Jeremy Bannister. His is a humble, simply told coming-of-age tale that spans the terribly serious and comically trivial decades of the Vietnam and disco eras, respectively.
The singular ambition of Jeremy's life is to become a "big-shot" novelist. As an English major still hoping to emulate the obscure artistry of James Joyce, he clearly has no earthly notion of how to achieve his goal.
Adrift in a "coral reef" of failed writer friends, Jeremy's youthful trials are bookended by an acerbic but influential college roommate and an incredibly matter-of-fact girlfriend. Thus thirty-year-old unpublished Jeremy arrives at the realization that he is destined to become fifty-year-old unpublished Jeremy if he doesnt stop straightening up his living room and finish writing at least one novel.
Pushcart Prize-winner Gary Reilly's latest offering is a Bannisterian bildungsroman executed in an intriguing economical format of precisely twenty-eight lines per chapter.
Praise for Jeremy Bannister
"Jeremy Bannister is for anyone who has dreamed of being a writer. Through Jeremy, Gary Reilly teaches us not to be afraid of rejection. You don't have a be a 'big-shot novelist', just stay focused and keep writing. Time reading one of Gary's novels, is time well spent. Please keep them coming!" – J. Scott Simmons, documentary film producer
"With 120 brilliantly chiseled one-page gems, Gary Reilly offers a mock portrait of the young artist, lampooning the naive literary ambitions too many of us may have suffered through. (Several episodes hit close to home for me!) Bitingly satirical about writing programs and professors and the publishing world and more, Jeremy Bannister also reveals a warmer, more generous humor too–a delightfully poignant mix, with surprises at several turns." – Art Taylor, author of The Boy Detective & The Summer of '74 and Other Tales of Suspense
"Every novelist — aspiring and otherwise — should read Gary Reilly's Jeremy Bannister, Or the Ups and Downs of an Aspiring Novelist. The slender volume, with its chapter-per-page format, is a sly and witty sendup of the writing life, with Bannister's quest to become a 'big-shot novelist' full of the painfully recognizable actions that defeat actual writing. The book's laugh-out-loud moments vie with the heartache of knowing Reilly's own published-novelist status came only posthumously." – Gwen Florio, author of Silent Hearts, Best Laid Plans and the forthcoming The Truth of It All.
"This might be Gary Reilly's funniest novel, and that's saying something. It's also an excruciatingly accurate look at the lengths to which writers will go to maintain a writerly self-image while barely writing anything at all." – David Rea, author, songwriter and recording artist (Nation of One, Sage and Seer)
"If there's an irony in this thinly veiled autobiography, it's that a writer of Gary Reilly's great talent would have judged his younger self so harshly. But Jeremy's Bannister's endless attempts to greet his destiny as a 'big shot novelist' are by turns pathetic, touching, thought provoking, and laugh-out-loud hilarious. This lightning-fast read's strongest appeal will undoubtedly be to other writers–but outsiders and strivers of any stripe will recognize themselves in Jeremy Banister, too. My favorite novel about an outsider author since Sam Savage's Firmin. – author and editor Keir Graff
"As a writer, Jeremy Bannister's plans make grasping at straws seem like a solid choice. Reilly puts us deep into his character's point of view and through Jeremy's hilarious fog of ineptitude, ignorance, and deep dedication I joyfully followed his journey to its end. If you want to be a writer, read this book and avoid everything in it. Or not." – Larry Barber, award-winning television writer and producer
"I love this book so much. I devoured it page after page like a bag of potato chips yet when I was finished, I felt I'd consumed a full, multi-course feast. There was no guilt from laughing at the clueless foolishness of the title character because I was clearly laughing at myself as a young, self-conscious, bumbling fool trying to escape 'real' work and become an artist. With a near Hemingway economy of words, Gary Reilly pinned the tail on my existential donkey with amazing accuracy. Did this guy know me?" – Dan Piraro, creator of Bizarro and Peyote Cowboy