Books
Jeremy Bannister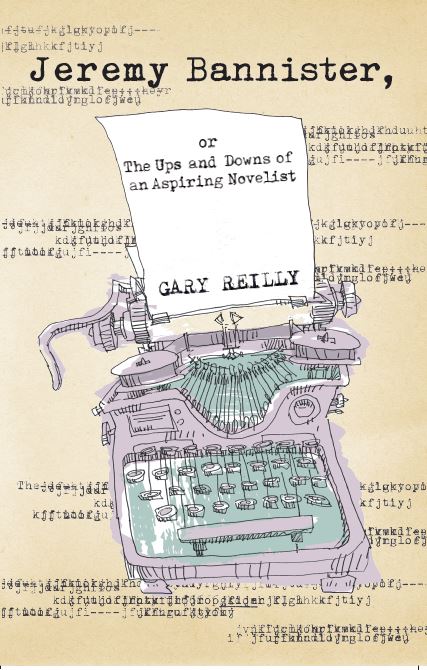 PUBLISHER: RUNNING METER PRESS, DENVER
ISBN: 978-0990992714
PUBLICATION DATE: July 13, 2021

Buy Now on Amazon Buy Now at Tattered Cover 
The Story
Meet Jeremy Bannister. His is a humble, simply told coming-of-age tale that spans the terribly serious and comically trivial decades of the Vietnam and disco eras, respectively.
The singular ambition of Jeremy's life is to become a "big-shot" novelist. As an English major still hoping to emulate the obscure artistry of James Joyce, he clearly has no earthly notion of how to achieve his goal.
Adrift in a "coral reef" of failed writer friends, Jeremy's youthful trials are bookended by an acerbic but influential college roommate and an incredibly matter-of-fact girlfriend. Thus thirty-year-old unpublished Jeremy arrives at the realization that he is destined to become fifty-year-old unpublished Jeremy if he doesn't stop straightening up his living room and finish writing at least one novel.
Pushcart Prize-winner Gary Reilly's latest offering is a Bannisterian bildungsroman executed in an intriguing economical format of precisely twenty-eight lines per chapter.
Praise for Jeremy Bannister
"Jeremy Bannister is for anyone who has dreamed of being a writer. Through Jeremy, Gary Reilly teaches us not to be afraid of rejection. You don't have a be a "big-shot novelist", just stay focused and keep writing. Time reading one of Gary's novels, is time well spent. Please keep them coming!" – J. Scott Simmons, documentary film producer
"With 120 brilliantly chiseled one-page gems, Gary Reilly offers a mock portrait of the young artist, lampooning the naïve literary ambitions too many of us may have suffered through. (Several episodes hit close to home for me!) Bitingly satirical about writing programs and professors and the publishing world and more, Jeremy Bannister also reveals a warmer, more generous humor too—a delightfully poignant mix, with surprises at several turns." – Art Taylor, author of The Boy Detective & The Summer of '74 and Other Tales of Suspense
"Every novelist – aspiring and otherwise – should read Gary Reilly's Jeremy Bannister, Or the Ups and Downs of an Aspiring Novelist. The slender volume, with its chapter-per-page format, is a sly and witty sendup of the writing life, with Bannister's quest to become a "big-shot novelist" full of the painfully recognizable actions that defeat actual writing. The book's laugh-out-loud moments vie with the heartache of knowing Reilly's own published-novelist status came only posthumously." – Gwen Florio, author of Silent Hearts, Best Laid Plans and the forthcoming The Truth of It All.
"This might be Gary Reilly's funniest novel, and that's saying something. It's also an excruciatingly accurate look at the lengths to which writers will go to maintain a writerly self-image while barely writing anything at all." – David Rea, author, songwriter and recording artist (Nation of One, Sage and Seer)
"If there's an irony in this thinly veiled autobiography, it's that a writer of Gary Reilly's great talent would have judged his younger self so harshly. But Jeremy's Bannister's endless attempts to greet his destiny as a 'big shot novelist' are by turns pathetic, touching, thought provoking, and laugh-out-loud hilarious. This lightning-fast read's strongest appeal will undoubtedly be to other writers—but outsiders and strivers of any stripe will recognize themselves in Jeremy Banister, too. My favorite novel about an outsider author since Sam Savage's Firmin. – author and editor Keir Graff
"As a writer, Jeremy Bannister's plans make grasping at straws seem like a solid choice. Reilly puts us deep into his character's point of view and through Jeremy's hilarious fog of ineptitude, ignorance, and deep dedication I joyfully followed his journey to its end. If you want to be a writer, read this book and avoid everything in it. Or not." – Larry Barber, award-winning television writer and producer
"I love this book so much. I devoured it page after page like a bag of potato chips yet when I was finished, I felt I'd consumed a full, multi-course feast. There was no guilt from laughing at the clueless foolishness of the title character because I was clearly laughing at myself as a young, self-conscious, bumbling fool trying to escape "real" work and become an artist. With a near Hemingway economy of words, Gary Reilly pinned the tail on my existential donkey with amazing accuracy. Did this guy know me?" – Dan Piraro, creator of Bizarro and Peyote Cowboy
Varmint Rumble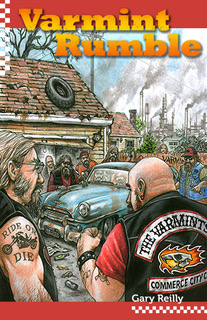 Publisher: Running Meter Press, Denver
ISBN: 9780990866695
ISBN-10: 0990866696
Publication Date: June 8th, 2020
Pages: 180
$16.95
Buy Now at Tattered Cover
Buy Now at Amazon
In Varmint Rumble, the final installment of The Asphalt Warrior series, we pick up with cabbie Brendan Murphy—better known as "Murph"—right where amhe usually leaves off: minding his own business and heading home to his crow's nest in anticipation of beer, burgers, and his beloved Gilligan's Island.
But a broken body lying in the street derails his plans and draws Murph into the shady world of Denver's most notorious outlaw biker gang: The Varmints. 
All's well that ends well, as Murph acquits himself admirably and is deemed "good people" by the gang's leader, Spinelli. But Murph's newfound status with The Varmints brings a troubled woman into his taxicab . . . and inevitably Murph violates his supreme motto to never get involved in the lives of his fares.
A string of misadventures—wherein Big Al makes an extraordinary cameo and Murph overthinks everything—ensues, prompting Murph to go on the lam, where he waxes philosophical about life, death, and facing the music. Memento mori, Murph. 
The Legend of Carl Draco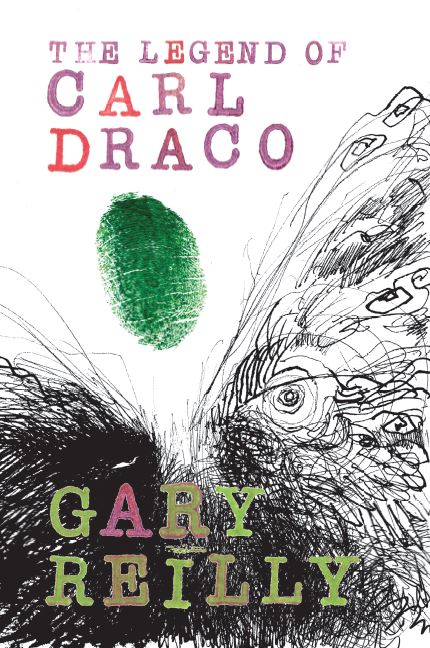 PUBLISHER: RUNNING METER PRESS, DENVER
ISBN: 978-0990866688
PUBLICATION DATE: June 2019
LAUNCH EVENT:
Monday, June 17, 2019
Time: 7 p.m.
LAUNCH LOCATION:
Tattered Cover (Colfax store) 2526 East Colfax Ave. Denver, Colorado 80206

The Story
Carl Draco is the dead-calm center of a maelstrom of violence.
The Legend of Carl Draco tells the story of a quietly fearless young man whose existence is consumed in ruthlessly dispatching nameless enemies who dog his every move. He doesn't know—or care to know—who these men are, but one thing is clear: they share the supernatural abilities Carl has possessed since he was orphaned as a small boy.
After crossing paths with a reclusive professor who took an interest in him twenty years earlier, Draco decides to question his pursuers on a "vexing night" that changes everything.
Throwing off his weary resignation, Draco sets out from California to confront his fate deep in the Appalachian Mountains where he was born. In this unusual town not found on any modern maps, a powerful foe has been pulling the strings of Draco's life.
When his personal quest threatens to press him into the role of reluctant hero, Draco is constrained to live up to the legend that preceded him in this odd locale. But does he really want to shoulder another burden?
Gary Reilly's latest antihero must reconcile his kindhearted tendencies with his fundamental love of solitude in this thoroughly entertaining contemporary folktale.
Advance Praise for The Legend of Carl Draco
"A twisted, kinetic escapade through darkness and danger."
— Mario Acevedo, author of the Felix Gomez vampire-detective series
"Reilly's Carl Draco is a man of few words, fewer goals, and some wildly powerful juju. Fueled by dizzying magic and moonshine, The Legend of Carl Dracodelivers a deliciously vengeful yarn I couldn't wait to unspool."
— Warren Hammond, author of the KOP series and Denver Moon
"Loyal to oral traditions, the novel's rich prose ripples with poetic imagery, rooted in a specific sense of place. The story's climax was as startlingly original as it was satisfying."
— Brian Kaufman, author of The Fat Lady's Low, Sad Song
"Gary Reilly was more than a teller of wonderful stories—he was a lyrical, beautiful writer whose words echo with you long after the tale if finished. The Legend of Carl Dracois one of those books that I know I'll be reading over and over again."
— Jeanne C. Stein, New York Times best-selling author of The Anna Strong Vampire Chronicles and The Fallen Siren series (as S.J. Harper)
"A college English professor could spend hours on allegory and metaphor when discussing Gary Reilly's The Legend of Carl Draco,but I have a strong suspicion Reilly would laugh and respond, 'It's just a little novel.' A master storyteller in any genre, Reilly excels in this suspenseful tale of good and evil in a magical world."
— Pat Stoltey, author of 2018 Colorado Book Award finalist Wishing Caswell Dead
The Circumstantial Man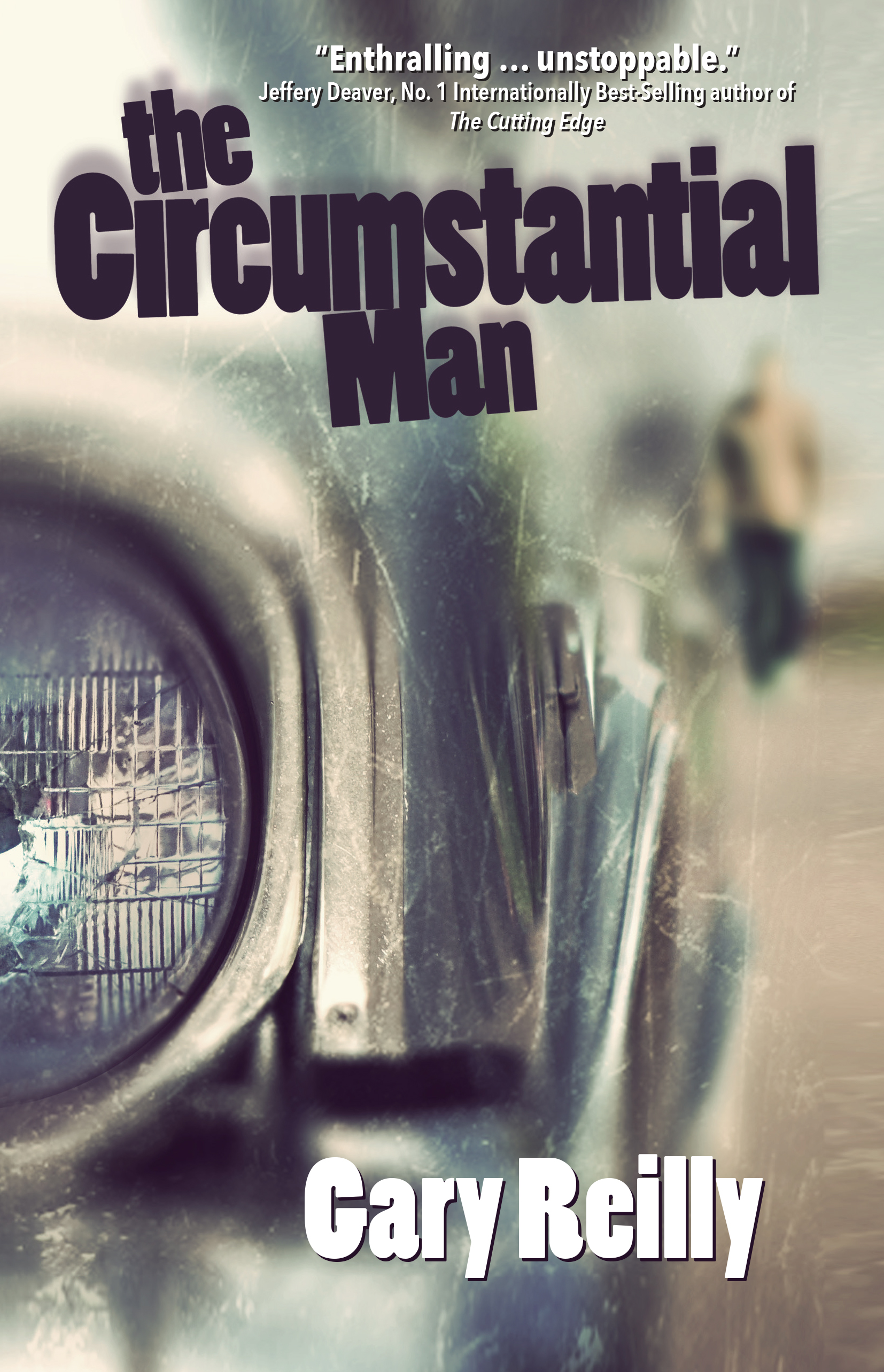 PUBLISHER: RUNNING METER PRESS, DENVER
ISBN: 978-0-9908666-7-1
PRICE: $14.95
251 PAGES
PUBLICATION DATE: April 2018
Buy Now on Amazon Buy Now at Tattered Cover
All he wanted to do that day was drive into town to look for a job. But when Pete Larkey turns the ignition key, his car won't start. He decides to walk to town. He'll have a morning beer at the Lemon Tree Lounge and buy a new battery for his car. He refuses to feel victimized. At least, he tries. But inside the bar is "the last man on earth" that Pete Larkey wants to see. A guy named Morton will ask a few questions that will change the course of Pete Larkey's life in a deep, dark way. There's a stolen car, a hit-and-run accident, mistaken identity, a body in his bathroom and a deadly encounter with a condescending con man named Benny. Pete Larkey knows he's not a perfect fit for the squeaky-clean town of Crestmoor. "Everything in Crestmoor is clean and tidy," he thinks, "except the inner lives of people like me." This innocent trip to fix his car will prove that point beyond a shadow of a doubt.
Praise for The Circumstantial Man
"The Circumstantial Man is a remarkable mystery–clever and sly and filled with twists and turns. (Pete) Larkey's asides and his view of his life are filled with humor and insight. This is a terrific read, and one that almost didn't get published … Eleven Reilly novels are in print, including eight in The Asphalt Warrior series about a cab driver, and three in the Vietnam Series, telling about the life of a veteran. The Circumstantial Man, a standalone novel, is the best of the lot so far. You can't help but wonder why no one sought to print it when Reilly was alive."
~ The Denver Post
"This wrong-man scenario works its own kind of magic, casting a spell like a waking nightmare. Rarely has a book about a man forced to dig his own grave offered such a rich psychological portrait."
~ Booklist (starred review) Click here for the full Booklist review.
"Reading The Circumstantial Man is a stunning experience. Rarely do a natural gift for storytelling and an enthralling, lyrical style come together in a single author, but that's unquestionably the case with Gary Reilly. As I read this unstoppable novel, I couldn't help but think: what a truly unique voice and approach to fiction—the same reaction I had reading Thomas McGuane and Cormac McCarthy for the first time, two authors with similar visions, by the way. I guarantee you'll savor every page of the unpredictable adventures of the wonderful Pete Larkey."
~ Jeffery Deaver, No. 1 Internationally Best-Selling author of The Cutting Edge
"As if Franz Kafka's The Trial and Fyodor Dostoyevsky's Crime and Punishment were melded into a grim satire of modern banality. The difference being that Reilly is profoundly, disturbingly funny."
~ Jeffrey A. Lockwood, award-winning author of Poisoned Justice and the Riley Mystery series.
"Spending a day with Pete Larkey takes me back to the days of spending time with Hoke Moseley. A place where the author's voice is seductive, the plot is compelling, the humor exquisite, the writing sensational. I wish this was the first of a series, but the one outing will have to suffice."
~ Patricia Abbott, Edgar and Anthony-nominated author of Concrete Angel, Shot in Detroit and 2018's I Bring Sorrow and Other Stories of Transgression
"What a melancholy pleasure it is to discover the very talented works of the late Gary Reilly. In The Circumstantial Man, Gary tells the thoughtful yet suspenseful tale of one solitary Peter Larkey, who wants to lead his own life on his own terms. But a possible dead car battery one morning leads to a comedy of errors—and horrors—that drag him into an escalating series of events involving arrests, a hit-and-run, and a dead body in his house. Very much recommended."
~ Brendan DuBois, award-winning author of Hard Aground
"Spanning a mere five chapters and thirty-hours, The Circumstantial Man is a brilliant fusion of suspense thriller and American philosophy. Gary Reilly's voice is singular; lyrical in its portrayals of desperation and hopelessness, bitterly humorous over life's patent unfairness. This is a one-sitting read that will have you savoring every beautifully crafted sentence."
~ Carter Wilson, author of Mister Tender's Girl and the award-winning thrillers Revelation and The Comfort of Black
"In The Circumstantial Man, Gary Reilly takes us on a riveting Jack Kerouac-style exploration of why we do what gets us in trouble, and proves that 'Language is the true magic of the world.'"
~ Jeffrey Siger, best-selling international and awards-nominated author of An Aegean April and The Chief Inspector Andreas Kaldis Novels
"Gary Reilly was a storyteller with an inimitable voice, an idiosyncratic worldview, and a knack for finding comedy, horror, and pathos in the absurdity of everyday life. The Circumstantial Man unfolds like a smoky barroom tale so tall and so thrilling, you're not quite sure if you believe it, but you know you won't soon forget it."
~ Chris Holm, Anthony-award winning author of The Killing Kind and Red Right Hand
"The Circumstantial Man is a novel of relentless suspense that kept me reading late into the night. The terrific narrative voice, wry humor, deliciously wacky characters, and insightful musings of a man trapped in equal measure by his own actions and a series of fateful events will make you laugh, squirm, and peer through your fingers as you turn the next page. Pete Larkey is an Everyman who provides a warning we should all heed: if you have a choice when the roads diverge, choose carefully."
~ Barbara Nickless, best-selling author of the Sydney Parnell crime novels including Blood on the Tracks and Dead Stop
"Imagine if Raymond Chandler had taken a pass on Philip Marlowe and instead channeled the Dude from The Big Lebowski. Now meet Pete Larkey, the enormously entertaining hero in Gary Reilly's new novel, The Circumstantial Man. Larkey makes a habit of pondering the imponderable. Are we in control of the events that make up the ebb and flow of our lives? Or are we merely puppets, at the mercy of random chance, our lives little more than a compilation of circumstance and consequence? For Larkey, such existential musings get cooked down to the simplest of questions—why didn't I wiggle the wires on my car battery? Interested? You should be. This is a fascinating read from an undeniably original voice. Check it out."
~ Michael Harvey, author of Brighton and The Governor's Wife
"The publishers of this fine novel call it a suspense thriller, which I think is not really accurate.  This is a novel of the modern human condition. Late in the book, Pete says, "In my experience, things related to hope rarely work out."  There are many such pronouncements by Pete, and I jotted many of them down."
~ David Willson, Vietnam Veterans of America Books in Review II, June 23, 2017
Read David Willson's full review of The Circumstantial Man on VVA Books in Review II website.
"The late great Gary Reilly accomplished an exhilarating yet disturbing feat with this novel—it's as if he mined the reader's most private, profound thoughts and attributed them to his protagonist, the unlucky Pete Larkey. Combine this with what-could-possibly-happen-next suspense, and you've got The Circumstantial Man."
~ LS Hawker, USA Today bestselling author of The Drowning Game and Body and Bone
The Discharge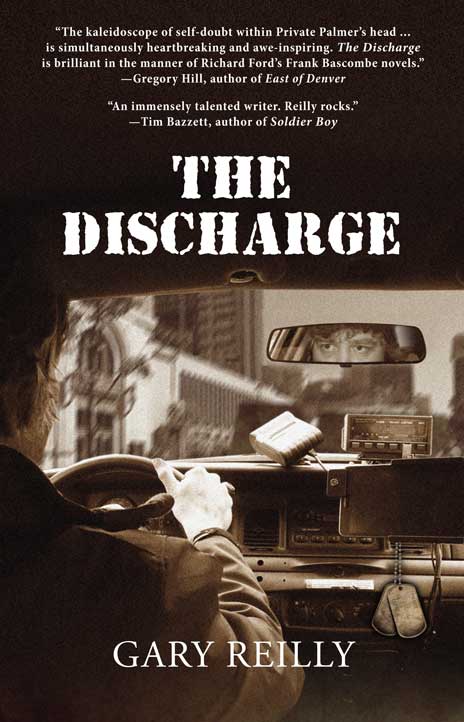 Buy Now on Amazon Buy Now at Tattered Cover
He put his uniform away carefully. The thing would rot at the creases and disintegrate someday, now that it was a part of history, something to show the children he would never beget.

The Discharge is the third novel in a trilogy about military life and its aftermath by the late writer Gary Reilly. Private Palmer, an army draftee during the Vietnam War, has trained to become a military policeman (The Enlisted Men's Club,) served a tour of duty in the Southeast Asian war zone (The Detachment) and is now trying re-integrate into civilian life in this final installment. The transition is rocky for Palmer. He finds that his strategies for surviving the tedium of army routine and coping with ever-present danger don't serve him well on the outside. He kills time in Denver, bounces around San Francisco and Los Angeles chasing a California dream, and finally ends up behind the wheel of taxi in Denver––his destiny all along.
Devil's Night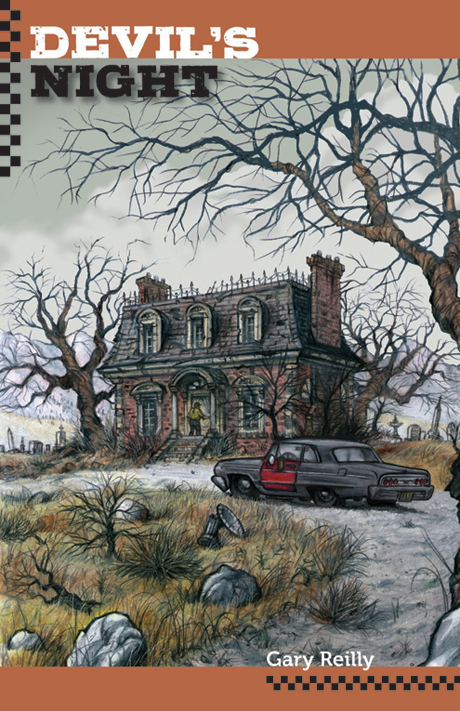 Publisher: Running Meter Press, Denver
ISBN: 978-0-9908666-5-7
$16.95
293 pages
Publication date: October 2016
Buy Now at Tattered Cover
Buy Now at Amazon
In Devil's Night, Murph drops off four costumed teens at a Halloween-themed haunted house party. Later, worried about whether the kids made it home safely, he is pulled into the vortex of an eerie con game. He endures a hellish week of seances, arson and a spooky graveyard chase. Murph has only himself to blame for his troubles. He's violated his most cherished principle: Never, under any circumstances, get involved in the personal lives of your fares.
The Detachment

Publisher: Running Meter Press, Denver
ISBN: 978-0-9908666-3-3
$18.95
536 pages
Publication Date: April 2016
Buy Now on Amazon Buy Now at Tattered Cover
While Bowen speaks, Palmer thinks about the POW, whose eyelids are not completely shut even though he is unconscious. Palmer wants to take a closer look at him the way he had wanted to walk up to the first Vietnamese women he say in Bien Hoa. Half a lifetime of Walter Conkrite, and now here's a communist.
The Detachment, by the late writer Gary Reilly, is the second novel in a trilogy featuring Private Palmer, a U.S. Army draftee during the Vietnam War. The first in the series, The Enlisted Men's Club, followed Palmer while he was stationed at The Presidio awaiting orders to deploy to the war zone.
This book picks up where The Enlisted Men's Club left off. It covers Palmer's year-long tour in Vietnam, serving as an M.P. in a traffic unit–an experience shared by the author. Reilly captures the frustration, boredom and capricious nature of military life. And the fear.
In the first, war on the other side of the world loomed for Private Palmer. In The Detachment, the war gets a whole lot more personal. How does Palmer cope? With beer. With a wily sense of how to turn the system to his advantage. And by finding ways to detach himself from reality.
Survival will require Palmer to dig deep into the scariest place of all—himself.
Pickup at Union Station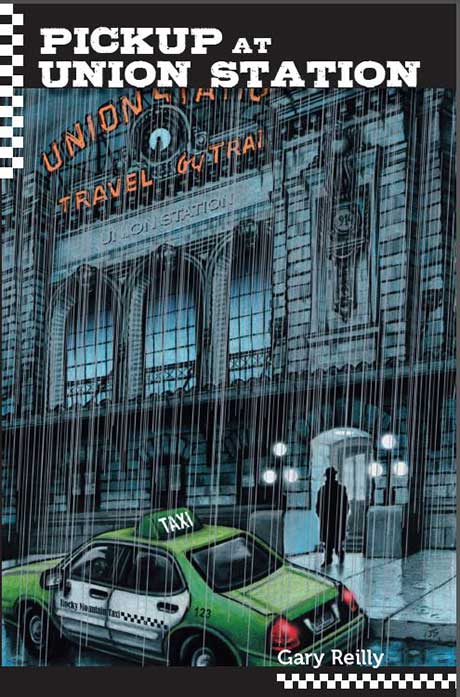 Publisher: Running Meter Press, Denver
ISBN: 978-0-9908666-0-2
$16.95
272 pages
Publication date: June 2015
Finalist for 2016 Colorado Book Award in Literary Fiction
… a rattling good yarn.
–Will Grozier on NPR Weekend Edition with Scott Simon.

Buy Now at Tattered Cover
Buy Now at Amazon
On a rainy night in Denver, cab driver Murph picks up a shady character at Union Station. His name is Zelner and he's worried that the police might be following the taxi. When Murph reaches his passenger's destination, Zelner is dead. Now it's not just the police who are interested. Murph, who never wants to get involved in the lives—or deaths—of his fares, is about to be swept up in international intrigue.